Administrative Team
"The dedicated and highly competent [ESATM] administrative staff keep the school running like a well-oiled machine."
Aida Almanzar, MBA
Chief Executive Officer / President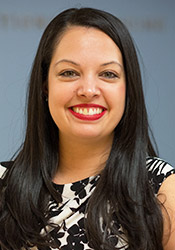 During her time as CEO, Aida has realized major milestones on behalf of the college. With her direct involvement in layout and design of the new facility in Bloomfield, Aida was presented with recognition of the Business Development Recognition Award from the Suburban Essex Chamber of Commerce in 2015. Under Aida's direction, the institution was recognized for becoming a degree conferring institution by the State of New Jersey, Office of Higher Education, in 2016.
As an active member of the New Jersey Presidents' Council, representing NJ colleges, Aida continues to explore new ways for ESATM to advance in the field of higher education and to maintain and continue to offer the students at ESATM a quality education resulting in a post-education career.
Dr. Thomas Kouo, DAOM, L.Ac, Dipl. OM
Academic Dean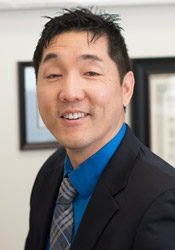 Dr. Kouo has treated athletes on the San Diego Chargers, Los Angeles Lakers, the US Winter Olympic Training team, and was the acupuncturist for the La Jolla Open Tennis Tournament at the La Jolla Tennis Center. Dr. Kouo was one of the original acupuncturists selected to pilot UCSD's Center for Integrative Medicine and was on staff in family medicine with hospital privileges working alongside UCSD's best physicians. He has also worked in the oncology department of Radys Children's Hospital in San Diego where he developed his love and compassion in working with children.
Dr. Kouo is honored to serve on the medical advisory board of Miracle Babies, a non-profit organization dedicated to the betterment of women and families with babies born prematurely. He has lectured both locally and nationally on topics such as Chinese Medicine and HIV/AIDS, Fatty Liver Disease, healthy pregnancy, pediatric care, sports injury care, and integrative medicine. He was also the Director of Wellness for a Fortune 500 company in Los Angeles and was the herbal consultant for the licensure review preparatory company, TCM Tests.
Kelly Williams, MS.Ed
Director of Admissions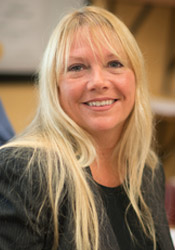 Jennifer Coppola
Director of Financial Aid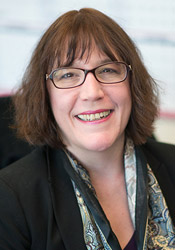 Rebecca Reisen, JD
Director of Administrative Operations & Registrar
Rebecca Reisen is the Registrar and Student Services Officer at The Eastern School of Acupuncture and Traditional Medicine since March 2017. Rebecca earned a Doctorate of Jurisprudence from Thomas Jefferson School of Law in San Diego, CA. She travelled abroad to study International and Comparative Law at the Zhejiang University Guanghua College of Law in Hangzhou, China. In 2009, Rebecca graduated from Montclair State University with a Bachelor of Arts degree in English and a P-12 Teaching Certificate.
Rebecca has dedicated her career to public service. She has interned with the Office of the Public Defender, researching and drafting motions relevant to Major Case work, and Casa Cornelia, where she provided quality pro bono services to victims of domestic violence. She enjoys working with environmental and social justice non-profit organizations and continues to be active in her community and beyond.
Sherlley Alvarez
Administrative Assistant

Lawrence Lane, JD, MLIS
Director of Library Services