Administrative Team
Aida Morales-Almanzar, MBA
Chief Executive Officer / President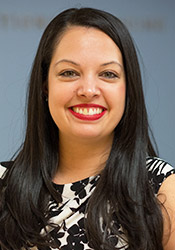 During her time as CEO, Aida has realized major milestones on behalf of the college. With her direct involvement in layout and design of the new facility in Bloomfield, Aida was presented with recognition of the Business Development Recognition Award from the Suburban Essex Chamber of Commerce in 2015. Under Aida's direction, the institution was recognized for becoming a degree conferring institution by the State of New Jersey, Office of Higher Education, in 2016.
Aida continues her learning through programs in professional education, such as the Harvard Graduate School of Education, to assure that she continues to advance in the field of higher education and to maintain the highest quality offering for the students at ESATM.
Dr. Thomas Kouo, DAOM, L.Ac, Dipl. OM
Academic Dean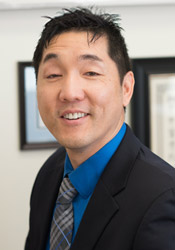 Dr. Kouo has treated athletes on the San Diego Chargers, Los Angeles Lakers, the US Winter Olympic Training team, and was the acupuncturist for the La Jolla Open Tennis Tournament at the La Jolla Tennis Center. Dr. Kouo was one of the original acupuncturists selected to pilot UCSD's Center for Integrative Medicine and was on staff in family medicine with hospital privileges working alongside UCSD's best physicians. He has also worked in the oncology department of Radys Children's Hospital in San Diego where he developed his love and compassion in working with children.
Dr. Kouo is honored to serve on the medical advisory board of Miracle Babies, a non-profit organization dedicated to the betterment of women and families with babies born prematurely. He has lectured both locally and nationally on topics such as Chinese Medicine and HIV/AIDS, Fatty Liver Disease, healthy pregnancy, pediatric care, sports injury care, and integrative medicine. He was also the Director of Wellness for a Fortune 500 company in Los Angeles and was the herbal consultant for the licensure review preparatory company, TCM Tests.
Joseph DelGiodice, C.H., L.Ac., ND
Clinic Dean
Dr. Joseph DelGiodice is an acupuncturist, Chinese and Western herbalist, and naturopath, with a tenure in the healing arts that stretches across four decades. With his great grandfather an herbalist and bone setter, great grandmother a midwife, and godfather a 1949 graduate of The Swedish Institute, the practice of healing stretches even further back in his family, to nineteenth century rural Sicily. His lifelong fascination with health and longevity began at age 7. That year at Christmas, he received his first book on nutrition, a gift from his brother-in-law. Joe didn't know what all the words meant, but eventually learned, and read that book so many times that it literally fell apart. Having studied extensively with herbalist priest Jeffrey Yuen, and having been a long time apprentice to Master Western Herbalist David Simon, Joe is a graduate of Rutgers College, the Somerset School of Massage Therapy, the Pacific College of Oriental Medicine, and the American Naturopathic Medical Institute. He has always modeled his practice after the 19th century physio-medicalist country doctors, when patients were like family and a physician would tend you when you're sick, but would also help raise a barn, harvest a crop, fix a roof, cook a meal, or preach in a frontier church.
Joe has been a member of the ESATM community since summer 2012 and recounts his first day as an observing clinic supervisor as follows, "I stepped into the clinic, and watched, and listened, and absolutely loved every second of it. I literally counted the minutes for two weeks to pass and my own shift to begin." Prior to that, Joe was a faculty member at PCOM NY and an acupuncture proctor for the NJ State Board of Medical Examiners. Since July of 1999, he has maintained a private practice in Hoboken, focusing on whole body wellness, geriatrics, musculoskeletal care, women's and men's health, and natural food education. He is also a volunteer gardener at the Community Church of Hoboken Organic Vegetable Garden.
When not in the kitchen preparing arugula salad, broccoli rabe, tabbouleh, or making a fresh green juice, Joe can be found cross country skiing, surfing a longboard, or singing and playing guitar as part of the popular acoustic combo, The Tribe of Uncles. If you don't see him in any of these places, stop in and say hello at the Eastern School Clinic.
Some of his favorite quotes:
"Let nothing disturb you, let nothing frighten you." "Love turns work into rest."
- St. Teresa of Avila (abbess and mystic)
"The mature man lives quietly, does good privately, assumes personal responsibility, treats others with friendliness and courtesy."
- Kenneth Rexroth (poet and essayist)
"Stay busy and get plenty of exercise."
- Jackrabbit Johannsen (supercentenarian and father of North American cross country skiing)
"Don't worry, wave come."
- Duke Kahanamoku (waterman and father of modern surfing)
"When the wave comes, best not to fight."
- Sal Librizzi (surfing barber and friend)
Kelly Williams, MS.Ed
Director of Admissions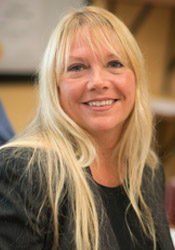 Jennifer Coppola
Director of Financial Aid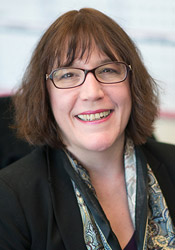 Marilyn Kahn, MLS
Director of Library Services
Marilyn Kahn received her Masters of Library Science degree at the University of Michigan. She has worked as an information specialist in a variety of settings, from public libraries to health science, publishing, and business libraries. Marilyn enjoys research and teaching students about the resources available in the Eastern School Library.
Rebecca Reisen, JD
Director of Student Services & Registrar
Rebecca Reisen is the Registrar and Student Services Officer at The Eastern School of Acupuncture and Traditional Medicine since March 2017. Rebecca earned a Doctorate of Jurisprudence from Thomas Jefferson School of Law in San Diego, CA. She travelled abroad to study International and Comparative Law at the Zhejiang University Guanghua College of Law in Hangzhou, China. In 2009, Rebecca graduated from Montclair State University with a Bachelor of Arts degree in English and a P-12 Teaching Certificate.
Rebecca has dedicated her career to public service. She has interned with the Office of the Public Defender, researching and drafting motions relevant to Major Case work, and Casa Cornelia, where she provided quality pro bono services to victims of domestic violence. She enjoys working with environmental and social justice non-profit organizations and continues to be active in her community and beyond.
Sherlley Alvarez
Administrative Assistant