Women's History Month-Celebrating Bloomfield New Jersey's Women-Owned Businesses
Kelly Williams M.S.Ed Director of Admissions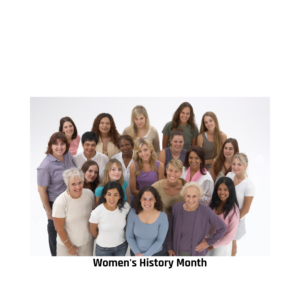 As women's history month closes, we reflect on an unprecedented year especially for small businesses, women-owned notwithstanding.  It is hard to believe that women's history month was instated so recently in 1987 after being expanded from the initial one week dedicated in March of 1982.  Recognition of women's achievements and contributions to the United States in a wide variety of fields is long overdue. Also long overdue was the history-making electing of Vice President Kamala Harris, and while women have cause to celebrate this and much more, we are making it clear that we are just getting started!
The Eastern School of Acupuncture and Traditional Medicine would like to extend our support to women in business this month and every month. Founded in 1997 by Julie Puretz, educator, and acupuncturist The Eastern School of Acupuncture and Traditional Medicine (ESATM) is the first and only acupuncture school in the state of New Jersey.  Julie's dedication and drive set the groundwork for a fully accredited program starting in a small office, which Julie ran herself in all departments with one classroom and a small offsite clinic in Montclair NJ with five students offering a diploma in acupuncture. The groundwork Julie set was solid enough to pass the torch to her daughter Aida Almanzar in 2006 when Julie was diagnosed with breast cancer.  Aida took full reigns of the business shortly after when Julie, unfortunately, lost the battle with her cancer.  Aida ran the school while completing her MBA and eventually moved the business to the Bloomfield center in August 2015 to our new facility at 440 Franklin St www.esatm.edu.  As president of ESATM, Aida's contributions to the school led to the expansion to three classrooms, an on-campus and online library, a student lounge, a six-person administrative office, an on-campus and online bookstore, and an onsite five treatment room clinic with a waiting area, plus an externship at the East Orange Veteran's hospital.  ESATM now offers a Master's in Acupuncture and a Certificate in Herbal Medicine and has over 100 students.
ESATM was honored to host the Bloomfield Center Alliance, Bloomfield Town Council, and Suburban Essex Chamber of Commerce's Networking Reception for Women Business Leaders and Owners in 2019 to celebrate Women's History Month.  Since 2020 brought the pandemic and has seemingly changed the face of small businesses forever, it occurs to us in 2021 that we can still send our support to women-owned businesses this month by promoting some of Bloomfield's fellow female business owners.
Sources:
https://womenshistorymonth.gov/about