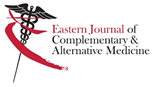 Message from the Editor of EJCAM
Our journal name is the Eastern Journal of Complementary and Alternative Medicine, EJCAM. This name indicates our roots of origin with the Eastern School of Acupuncture and Traditional Medicine and identifies the basis of our medicine. According to the National Institute of Health the following definitions apply: If a non-mainstream practice is used together with conventional medicine, it's considered "complementary." If a non-mainstream practice is used in place of conventional medicine, it's considered "alternative." EJCAM is both but also joins conventional medicine science and traditional medicine experience.
We live in a time where information and ideas are expanding at great speed. Ideas and information need to be shared. Our intention is to attract manuscripts of academic and research nature that will improve knowledge in the world of complementary and alternative medicine. EJCAM will spread knowledge.
Students, teachers, and practitioners of complementary and alternative medicine come from a wide range of backgrounds. The basic connection of these backgrounds and purposes is to improve life.
As EJCAM continues to develop we take a humble approach to our contribution to the lofty goal of improving life. We welcome assistance from all who believe in this goal. EJCAM aims to benefit many.
For EJCAM Volume 4 we have an interesting mix of articles including a case study on orofacial dyskinesia, an interview with acupuncturist, Tinna Kim, an article by Giovanni Maciocia on Influenza A (H1N1) provided for EJCAM republication by his son Sebastian, a prototype for starting an Integrative Medical Hospital Division and a report of human research on acupressure eliminating use of post-operative pain medication after emergency dental procedures.
The majority of this EJCAM Volume 4 was developed during the relative peace of Pre-Covid-19 virus. Now in late March 2020 all of our lives have changed. For those of us in health care, we are either so busy we cannot read this or our practices have been reduced by social distancing rules. My practice has become an emergency practice and my hours are limited. I am still teaching at my hospital, but we have to develop some novel ways to accomplish this. Some of us are doing telemedicine. Whatever your role is during this crisis, please do your best to keep everyone safe, but please try to learn from this. Within this crisis there will be some valuable lessons. Don't miss learning! Then share your learned wisdom with the rest of us.
To all of our readers, writers, practitioners, students, teachers, patients and researchers, please enjoy our EJCAM Volume 4 and consider contributing to our next edition.
Welcome to our journal, EJCAM, Volume 4.
Thomas J Gormley, Editor in chief
CLICK BELOW TO VIEW VOL. 4