As seen on NJ.com courtesy of NJAAOM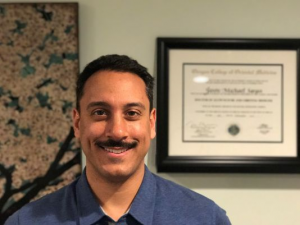 Photo courtesy of Jason Sargis President NJAAOM
A Cedar Grove businessman pushed to protect the integrity of his industry and the safety of acupuncture patients.
Jason Sargis, who has owned Total Acupuncture on Pompton Avenue in Cedar Grove since 2015, serves as president of the New Jersey Association of Acupuncture and Oriental Medicine. The organization "fought tirelessly" to ensure that only licensed acupuncturists could perform the procedure, as opposed to physical therapists, according to a release.
After years of debate, the New Jersey Attorney General's Office recently ruled that physical therapists cannot perform intramuscular stimulation or dry needling with acupuncture needles, the release stated.
Sargis said he and his colleagues are happy with the decision.
"You're kind of like, 'All right, this clears away any gray from any sort of argument,'" Sargis said. "We felt physical therapists cannot break skin. Nothing in the law allows them to do that."
The debate started in 2006 when a licensed physical therapist sought the Physical Therapy Board's opinion as to whether intramuscular stimulation fell within its realm of treatment, according to the release, which stated that, at that time, the board indicated that physical therapy excludes invasive procedures.
In 2009, the topic arose again, and this time, despite the absence of any legislative change, the board indicated that nothing in the rules and regulations prohibited licensed physical therapists from dry needling, if they had proper training, the release continued.
This caused Sargis' board to seek the opinion of the Attorney General's Office, which eventually ruled in the board's favor. There was a lot of waiting involved in the decision, he said, but he is happy with the result.
Sargis, a Paterson native, started practicing acupuncture in 2008 after earning his doctorate degree from Portland College of Oriental Medicine. He also received a master's degree in acupuncture and Oriental medicine from Tri-State College of Acupuncture, and his bachelor's degree in biology from the University of Chicago.
He originally wanted to enter the oceanography field, but when funding fell through on a program he was planning to attend, he switched gears. Sargis had experience with kung fu and Asian culture, so he said transitioning to acupuncture was organic.
The practice of acupuncture continues to grow, said Sargis. He saw it at his own business, and through the amount of licenses that have been given out.
"Acupuncture definitely gives people an option in terms of non-pharmacological help for whatever their ailments are," Sargis said. "Whether you're talking about muscular skeletal pain, you're talking about helping to cope with stress, anxiety, emotional issues, or you're talking about digestive issues, whatever it is, we can treat that with acupuncture."