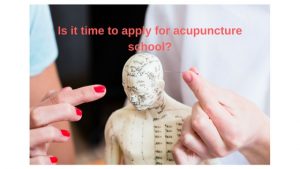 Is it time to apply for acupuncture school?
Like any life changing event, furthering your education or changing career paths is a major decision. Prospective students who apply to acupuncture school are adult learners who are experiencing different phases of their lives. Some are fresh out of undergrad and living with their parents, some are starting families, some are sending their own children to college, some are the care takers of their parents and some are enjoying retirement. Whatever phase of life you find yourself in there is usually a point where you take a look at your career/life plans outside of these major life events.
What educational background do I need to attend acupuncture school?
Acupuncture school (and licensing) requirements vary state to state. Applicants should take into consideration what state they are looking to both attend school and gain licensure in. In the state of NJ, acupuncturists are required to have a bachelor's degree independent of their acupuncture education. The good news for the adult learner? Your degree can be in any topic-your academic background can be in architecture, restaurant management, math, philosophy-literally any subject to enter an acupuncture program in NJ and also meet the licensure requirements!
What should I look for in an acupuncture school?
Accreditation: The accrediting commission for acupuncture programs is ACAOM (Accreditation Commission for Acupuncture and Oriental Medicine). There are some colleges that have regional accreditation that offer acupuncture programs, the acupuncture program itself must be under ACAOM accreditation.
Degree Recognition: If a school is accredited by ACAOM, it will be recognized by the department of education in the state in which is it offered.
Class Size: Do you want to be a small fish in a big pond? Or do you excel in a smaller class size? Acupuncture schools classes vary in size by institution. Some schools start co-horts with over 100 students, some schools as low as 5.
Financial Aid: Does the school accept financial aid? The base tuition for acupuncture education is fairly comparable between schools, however how you are going to pay for the tuition is a different story.
Faculty: Look at the faculty bios on the schools website. An experienced and well credentialed faculty that are considered subject matter experts in their individual field are an integral part of your education.
Core Curriculum: To apply for a state acupuncture license students must pass their national comprehensive exams. While individual states vary regarding national exam requirements, the exams themselves cover Oriental Theory (TCM), Western Bioscience, Point Location and Herbal Medicine. TCM or Traditional Chinese Medicine is the style of acupuncture that is required by NCCAOM (National Certification Commission for Acupuncture and Oriental Medicine)
Location: In general acupuncture schools are going to provide students with an education that also meets the licensing requirements of that particular state. For example, the state of NJ requires a minimum of 2500 hours of acupuncture education, a bachelor's degree in addition to acupuncture education, three modules of the National Exams and a state exam to gain licensure. The states surrounding the NJ area do not necessarily have the same state standards for licensure. Since NJ has a higher standard than the surrounding states if a student attends a NJ acupuncture school they will readily meet the requirements of the surrounding states, however attending an acupuncture program outside of NJ may not necessarily meet the required hours or prep students for the NJ state exam for licensure.
What can I expect when I graduate?
When considering an acupuncture program look at the curriculum of the school to see if they provide courses in practice management, ethics, law and medical billing. Many graduates are looking to start their own practice and the school they attend should give students the tools to provide them with a business plan in order to start and maintain a successful practice. Also take into consideration if the school provides alumni with job forum boards or employment placement. Remember your success is the schools success!