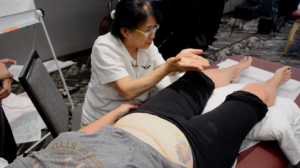 Kiiko Matsumoto
Live-Streaming from Kiiko's Clinic
A chance to review and master the basics and also learn the newest techniques in Kiiko's evolving style.
Topic: Kiiko Matsumoto Treatment Strategies: Using the SCM as a Diagnostic Area
Kiiko will be treating patients live-2 of the patients have post-COVID syndrome.
Course Description: Kiiko Matsumoto will share her insights into the importance of the SCM muscle. The SCM is a unique muscle in that it is only one of very few muscles in the body controlled by a cranial nerve. This allows us to use the SCM as a diagnostic tool for sympathetic dominance, structural integrity and other common ailments. The connection between the SCM and root presentation of patients will be made in real time and Kiiko Matsumoto will demonstrate best treatment options.
Kiiko Matsumoto will also present new investigations into Stomach 9, the carotid body and human evolution, and how the neck can be used to diagnose and treat oxygenation issues throughout the body, which manifest with a wide variety of asthmatic, hypertensive, intestinal and psychological symptoms
Presenter: Kiiko Matsumoto, the world-renowned acupuncturist and teacher, will offer master classes at the Eastern School of Acupuncture and Traditional Medicine. Internationally known for her scholarly work in acupuncture, Matsumoto is recognized for her ability to integrate the work of the Japanese Masters into a coherent and clinically effective style.
Date & Time: Saturday, February 6, 2021 (11 – 5pm EST)
Location: via Zoom