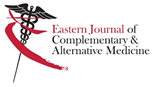 Eastern Journal of Complementary and Alternative Medicine Volume 3
The Eastern Journal of Complementary and Alternative Medicine, EJCAM, is a peer reviewed journal affiliated with the Eastern School of Acupuncture and Traditional Medicine. EJCAM however acts independently from the school in pursuit of its own mission.
The mission of EJCAM is to publish and distribute peer reviewed articles of complementary and alternative medicine that stimulate the knowledge of all medical professional healers and enhance the health and well being of all people.
Authors are welcome to submit articles to EJCAM about topics such as acupuncture, moxabustion, Asian medicine, and complimentary or integrative western medicine. EJCAM publishes original research, clinical practice articles, case studies, systematic reviews, meta-analyses, literature reviews, conference proceedings, translations, and related topics. Capstone and thesis projects may also be submitted.
EJCAM accepts original unpublished articles. If articles are accepted, authors must provide exclusive publication rights to EJCAM. EJCAM reserves the right to reprint, under the discretion of the editor in chief and EJCAM Board, certain studies or articles previously published in other journals. Dual simultaneous publication may be considered under special circumstances. Authors retain rights to intellectual properties. Authors provide rights to EJCAM for electronic and print publication and distribution as well as archiving storage.
Please click the link below to view the EJACM VOL 3