Acupuncture Books
CLICK HERE for Textbook Information.
---
BY AUTHORS FROM THE EASTERN SCHOOL FACULTY
Kiiko Matsumoto's Clinical Strategies
In the Spirit of Master Nagano
Vol. 1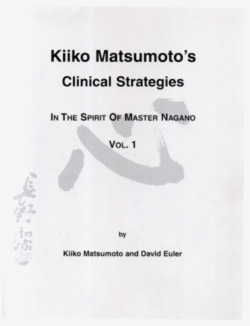 INTRODUCTION
This book will discuss and demonstrate Kiiko Matsumoto¹s work and clinical experience. It is intended to be a guide and practical reference for the clinic as well as a presentation of thoughts and approaches by various Japanese Masters and classical texts. A special emphasis is given to Master Kiyoshi Nagano's extraordinary work from which the authors have learned a vast range of practical approaches with a tremendous clinical effect. This book is dedicated to Master Kiyoshi Nagano. The reader will find that Kiiko Matsumoto¹s style of acupuncture is a synthesis of the approaches of many prominent Japanese acupuncturists along with her own clinical findings and ideas. Kiiko Matsumoto studied closely with Dr. Manaka (who was very eclectic in his approach as well), Master Nagano and Master Kawai. Through a long and very busy history of clinical experience, reading the Chinese classics and their interpretations she has succeeded in integrating different approaches into a coherent and highly ffective style of her own.
The reader will find references to different practitioners as well as to the Chinese acupuncture classics. In general, the acupuncture work presented here is very practical due to the immediate palpable changes in the patient's body but it is also very close to the works presented in the Nan Ching, Su Wen, Ling Shu etc. Many ideas presented here are practical interpretations of these classic works (which are some times written in a very obscure language) integrated with modern Western medicine. David Euler has worked diligently to establish a coherent link between the Chinese acupuncture classics and theories of Western medicine. This link makes this a very unique style to learn as it allows the practitioner to comfortably merge Eastern and Western terminology.
The main characteristic of this style of acupuncture is the very close relationship between the various medical theories and the human body. Such a relationship is obtained by palpation and verification of acupuncture points as explained further in the introduction. In general, acupuncture points are chosen only if they have a positive effect on the body, verified by palpation, pulse-taking or measuring other changes in the body.
Other publications by Kiikos Matsumoto available at the Eastern School Book Store include:
Hara Diagnosis: Reflections of the See
Five Elements and Ten Stems
Eight Extraordinary Vessels
Discovering the Five Elements
Janice Mackenzie



This Chinese Medicine guide to healthy living is illustrated by renowned watercolor artist Sara Steele, and is a good resource for suggestions on staying healthy with the seasons. Organized as a daybook, it makes a good energy diary for yourself or a good gift for anyone wishing to explore the movements of Nature in his or her own life.

The Eastern School bookstore carries several other publications & acupuncture supplies and can be purchased here:

440 Franklin Street, 5th Floor
Bloomfield, NJ 07003
Call 973-746-8717 for store hours